Summer Heat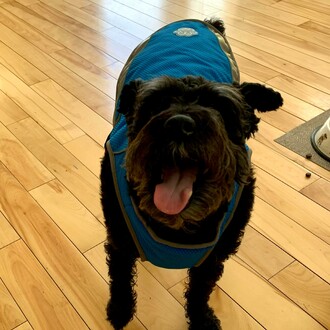 How to Keep Your Pet Cool in the Heat!
 Make sure your furfriend always has shade and plenty of cool water to drink.
Giving them a damp towel to lay on helps.  Tucker has a cooling vest and he loves it! We soak it in cool water, squeeze the extra water out and snap it on.  He wears it for about 2 hrs at a time. He goes in and out of the house with it on and we never leave him alone in the heat. The heat from his body and from outside cause the cool water to evaporate from the jacket.  It helps to draw excess heat from his body.  
A cooling jacket is meant to help your pet stay cool, as well as taking other precautions.  You should NEVER leave your pet alone in the heat.