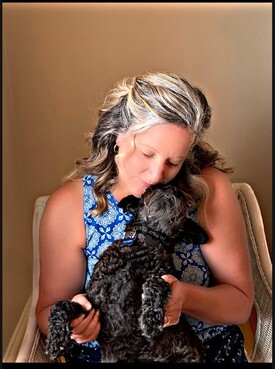 I am Tucker's mom! I translate Tucker's adventures as he relays them to me. After all, it is tricky for Tucker to write or type with paws! My main duties include making sure that the snack jar is fully stocked, and that there is an endless supply of tennis balls. My throwing arm has developed, but I still have difficulty with my aim! We tend to lose a lot of tennis balls at the park! I also serve as Tucker's chauffeur. We can be seen cruising around town in my cheerful, yellow VW Beetle. Tucker hanging out the passenger window, his fur blowing and his tongue flapping in the breeze. I'm sure there is laughter floating out behind us as we pass! 
I have a deep love and compassion for all children.  I have created and developed Christian curriculum with evangelistic outreach.  I could often be found vividly telling stories with different voices in my pre-school classroom!  I am the co-author and illustrator of "Tucker Goes to City Hall," a book for elementary children about municipal government. 
I am the happiest outdoors walking with Tucker, throwing his ball, and listening to his stories.